2004 Founders Award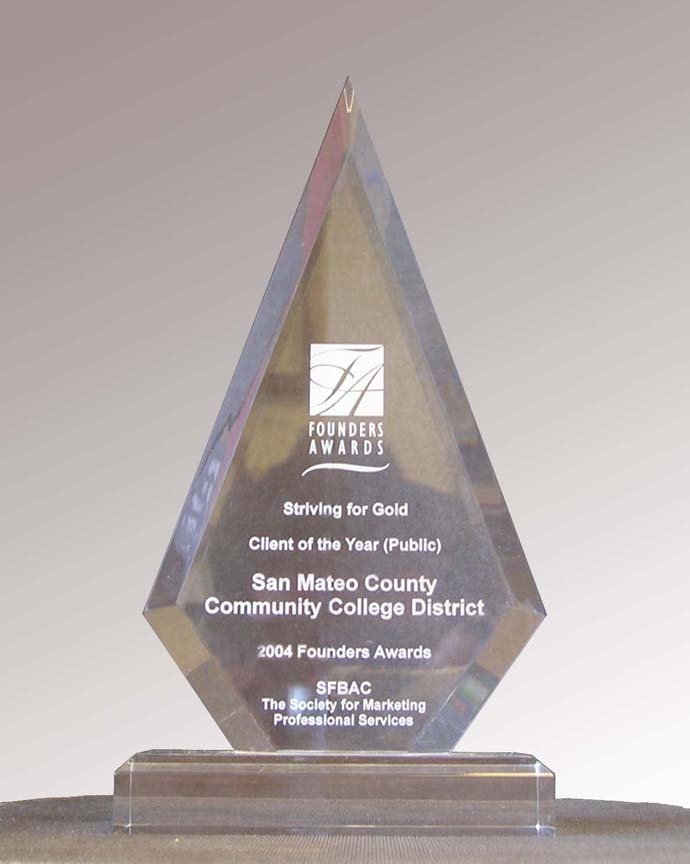 The design and construction of a building is a team effort. Architects, Engineers, Contractors, Subcontractors, Facilites and many others have to work together towards the common goal of a new facility. There's a very important member of this team that is often overlooked: the Owner. San Mateo County Community College District is the owner of all of the new construction at the District. The Owner makes many of the important decisions about projects and is ultimately responsible for the success or failure of a project. This award was presented to us for our role as Owner.
SMCCCD received this award from The Society of Marketing Professional Services. The SMPS represents a network of 6,500 professionals from architectural, engineering, planning, interior design, construction, and specialty consulting firms located throughout the United States and Canada. This award is presented to Owners who:
Nurture the build environment in the Bay area
Contribute to the local community
Establish positive working relationships with Bay Area Architects, Engineers and Construction firms
Apply innovative principals to their projects
Further the social and economic growth of the Bay Area.
We easily met all of the requirements and were especially noted for the District's pioneering use of the Design Build delivery methodology described here. Our District was one of the first California Community College District to utilize this process which enables our business partners to compress timelines and reduce costs while delivering large, award-winning projects.