Green Community College Award Winners Announced
September 30, 2010, Pasadena, California – Recipients of the 2010 Green California Community College Summit Leadership Awards were announced today. Ceremonies will take place October 12 at the Pasadena Convention Center.
Presented on behalf of the Summit's advisory board, the awards honor individual, organizational and campus-wide achievements in five categories of community college sustainability. The Summit is the largest event of its kind focused entirely on the greening of community colleges.
This year, Citrus College receives the Green Campus award for sustainability programs and policies that encompass the campus carbon footprint through significant energy savings, creating green curricula, implementing green building standards, waste reduction and more.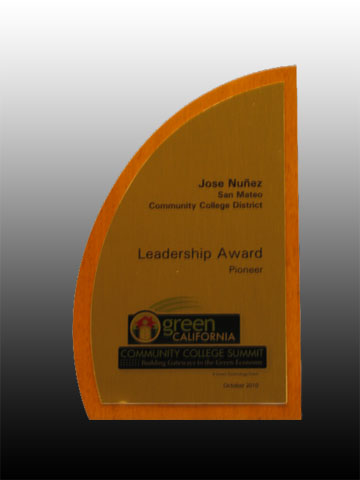 Dr. Yuet-Ling O'Connor, associate professor and chair of the green team at Pasadena City College, has won the Instructor award for her work not only as a teacher, but for her dedication to inspiring students, faculty and the community to participate in campus-wide green programs.
The Curriculum award goes to Franz Rulofson, professor of Agriculture at College of the Redwoods. He has spent the last nine years developing the college's agriculture laboratory facilities. The program he developed includes a certified organic farm that offers students an opportunity to earn an Associate of Science degree.
Honored with this year's Pioneer award is Jose Nuñez, vice chancellor of Facilities Planning, Maintenance and Operations at San Mateo Community College District. Under his guidance, the District is fulfilling its goal of implementing sustainable strategies in all its new and existing building projects, utilizing green construction practices and achieving dramatic energy savings.
The California Community College – Investor-Owned Utility (CCC-IOU) Energy Efficiency Partnership has won the Industry award for its efforts to help community colleges save money by implementing energy efficiency strategies. Partners include the California Community Colleges Chancellors Office, Southern California Edison, San Diego Gas & Electric, Pacific Gas and Electric, Sempra Energy and the Southern California Gas Company.
"The Summit celebrates a shared commitment to building programs and facilities that enable students to understand sustainability in practice, and to prepare to contribute to a greener future," said Carl Smith, Green Technology editor in chief. "Our congratulations go out to all the recipients of this year's awards. Their efforts reflect the dedication and creativity that exists throughout California's community college system."
For more information about the awards, or to register for the Summit, go to
www.green-technology.org
or call 626-577-5700.