College of San Mateo Sitework Design-Build Project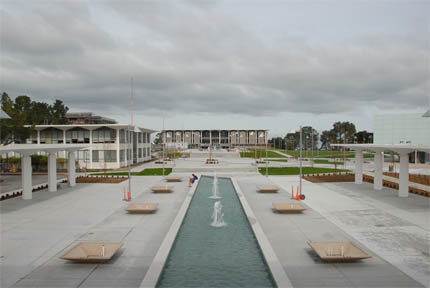 PhotosProject Description:
CSM's campus exterior will be revamped to take advantage of its idyllic hill top location. The new landmark entries at Hillsdale Boulevard and CSM Drive will provide gateways to a lively campus where students and the community will feel inspired to participate in college activities, with gathering spaces acting as centers of concentrated activity and energy. The Fine Arts Courtyard between the newly renovated buildings 2 and 4 will provide the campus an opportunity for outdoor events. Landscape improvements will create hierarchies to define vehicular and accessible pedestrian circulation routes and manage pedestrian/vehicular interface. Emergency vehicle access will be improved, as well as other safety and security measures. Public transportation, passenger drop-off and pick-up zones, service & delivery zones will be enhanced. Wayfinding signage, exterior lighting, concession kiosks, and provisions for art will also be part of this project.
In addition to the exterior this project will also serve to relocate load center #4 which is a part of the campus main power distribution grid.
Schedule
Design Phase: March 2008 – December 2008
Fine Arts Courtyard Construction Phase: July 2008 – January 2009
Landscape Construction Phase: January 2009 – August 2011
Parking Lots: Completed December 2009
Lower Quad and Main Entry: Completed 2009
Final Completion: Spring 2011
Status:
The fine arts courtyard, main entry and lower quad are complete. Parking lots have been repaved.
Design-Build Project Manager: Barry Chin, Design ManagerTelephone:650-358-6787E-Mail:chinb@smccd.eduProject Manager: Karen PinkhamTelephone:650-358-6714E-Mail:pinkhamk@smccd.edu Project Coordinator:Jennifer JamesTelephone:650-358-6733E-Mailjamesj@smccd.eduBridging Architect: Steinberg Architects Landscape Architect: LPA, Inc. Design Build Contractor: McCarthy Building Companies, Inc. Funding
Source(s): Measure A general obligation bond funds