Skyline College Utility Infrastructure Upgrades
Construction Schedule:
PH I (Waterline Extension): Completed January 2004
PH II (Completed September 2004
PH III (Hot Water Piping Replacement): Fall 2004 – Completed January 2006
Funding Source(s): Measure C general obligation bond funds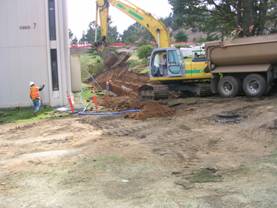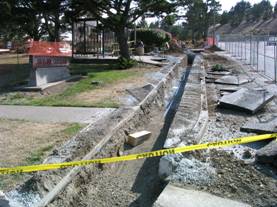 Description: In order to support continued use of existing facilities as well as the new construction planned for Skyline College, infrastructure repairs and upgrades are required throughout the campus. These infrastructure improvements include sanitary sewer, storm drains, power and gas service, fire, data and telephone. In addition, numerous utilities will be relocated to allow for the construction of the new Buildings 6 & 7A. The fire and life safety upgrades include providing new water mains and fire hydrants serving the Loma Chica and Pacific Heights' locations. The campus' telephone and data network infrastructure will be extended to Pacific Heights and eventually to the CDC.
Benefits: These upgrades will allow Skyline College to provide state-of-the art instructional programs, improve the integrity of the campus life safety system and provide a consistent standard of utility services to the occupants and users of the campus facilities.