Cañada College Electrical Infrastructure Replacement Project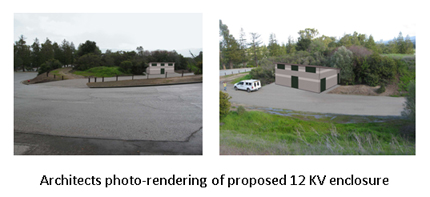 Project Description:
This project proposes to correct the safety and serviceability deficiencies of the aged electrical infrastructure at Cañada College. The electrical system was constructed in the 1960's. The District commissioned a Power System Evaluation Report to assess the condition of the electrical infrastructure in 2006. Performance of critical components was tested and recorded under load. The load center structures and primary (12kV) distribution systems were inspected and a "Power System Evaluation Final Report" was prepared for Cañada College. The Electrical power systems deficiencies at Cañada College are significant and pervasive and the power infrastructure has deteriorated to the point where system replacement is warranted. The Power System Evaluation Final Report highlighted the urgency of correcting the life safety and code compliance deficiencies before injury or more significant property damage occurs.
Project Benefits:
In order to adequately address the deficiencies identified with the existing electrical infrastructure system, the infrastructure replacement will address the following:
Address critical life safety issues
Correct code deficiencies
Protect property and equipment from damage that could result from infrastructure failure
Mitigate risk of disruption of educational program delivery due to infrastructure failure
Upgrade the entire electrical infrastructure including load centers and other critical switchgear and provide new code-compliant underground distribution system
Correct deficiencies in the most cost effective manner
ScheduleDesign Phase is complete. Currently in Pre-Bid / Bid Phase. Mandatory Pre-Bid conference (Must attend at least one) March 25 1:00 PM or April 01, 1:00 PM.

Bids Due: April 28 2:00 PM Deadline. See instructions to Bidders for Pre-bid conference location and Bid Submittal Location.

Drawings, Specifications and Reference Documents are located here.
Status: Complete
Project Manager: Drew Bagdasarian Telephone:415-397-4430 E-Maildbagdasarian@drbassociates.com
Project Assistant:Stephen MacMillan Telephone:415-397-4430 E-Mailsmacmillan@drbassociates.com
Architect:Noll & Tam
Architects General Contractor:Not Yet Selected
Funding Source(s):Measure A General Obligation Bonds