Districtwide Utility Measurement and Verification Project
Contact Information:
District Energy Management Coordinator
Joe Fullerton
Telephone: 650-358-6848
E-Mail: fullertonj@smccd.edu
Construction Project Manager
Peter Hempel
Telephone: 650-378-7336
E-Mail: hempelp@smccd.edu
Architect / Engineer
GRD Energy, Gustav Deuss
General Contractor
Schneider Electric, Inc.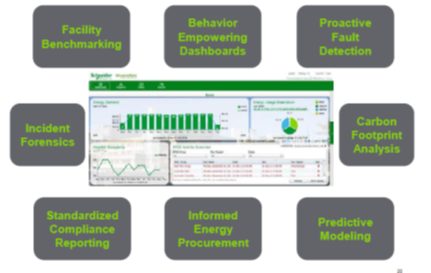 Schedule:
Project Complete December 2017

Description:
The Districtwide Utility Measurement and Verification Project is a Design-Build Project that will provide for the design and construction of an energy measurement and verification and management system to be implemented at Cañada College, College of San Mateo, and Skyline College. The project is a significant step toward measuring and managing how buildings operate throughout the District. This project will provide key upgrades to existing systems and add necessary infrastructure and software systems to monitor, trend, analyze and control utility use across the District. The project upgrades the District's existing building management system, creates a robust energy information system, and builds on a legacy of innovation by providing advanced analytical functions.
An essential element of this project is to replace the existing Building Management System (BMS) main controllers and software system. Installed over ten years ago the existing BMS has outlived its useful life. In fact, many of the system components are no longer supported by their original manufacturer. All of the existing BMS controllers will be replaced with new controllers. By utilizing this modern hardware and innovative BMS software, system level information (i.e. lighting and heating, ventilation and air conditioning) will feed directly into the energy information system while enabling facilities staff to monitor and control system functionality.
The existing Energy Information System (EIS) hardware across the District will also be replaced and enhanced with new hardware and a new EIS software platform that integrates with the BMS system. New utility meters will be added to almost all buildings across the District to monitor utility usage by each building, to include electrical, gas, heating and cooling water as well as domestic water. A new energy usage electronic "Dashboard" will be provided to track and display the Energy Information System data. The Dashboard will be accessible via the web and can be custom tailored for several user groups. This will enable the District to provide the energy usage information of the different buildings and campuses across the District – essentially bringing SMCCCD buildings to life as learning laboratories themselves. The Dashboard will be utilized by the Facilities Department to track energy usage and building performance, and can also be used by students, faculty, staff and the public to learn about the energy usage conservation efforts across the District.
Additionally new Analytics software will be provided that has the ability to store, categorize and analyze the data from the BMS and EIS system to provide actionable information to the Facilities Department to optimize performance gaps and address equipment problems and issues in the future.
Benefits:
Lawrence Berkeley Labs has estimated installations of metering systems and monitoring software help organizations generally reduce energy consumption by 5% - 15%. Staff have implemented similar monitoring based commissioning efforts and have realized results of 15% - 22%. Using 15% as a reasonable baseline for estimated reduction, SMCCCD would realize approximately $130,000 annually in electricity savings alone. Additional savings in water and gas usage are expected to bring this number closer to $150,000 resulting in a simple payback of approximately 15 years.
Status:
Project Complete