Marie Curie Parking Lot Renovation Project
Project Name: CSM Marie Curie Parking Lot Renovation Project
Contact Information
Project Manager
Johnnie Fudge
Telephone: 650 378-7341
E-Mail: fudgej@smccd.edu

Project Assistant
Pepper Powell, Project Coordinator
Telephone: 650 358-6762
E-Mail: powellp@smccd.edu
Architect / Engineer
Noll & Tam
General Contractor
tbd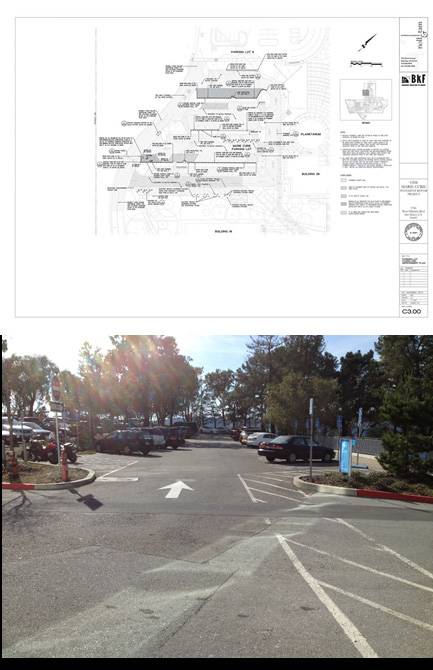 Project Documents
Schedule:
Programming/Design: 10/2015 – 11/2015
Production Phase: 11/2015 – January, 2016
Bidding: February, 2016, through March, 2016
Construction: May, 2016, through August, 2016

Completion: August 12, 2016
Description:
Parking lot renovations at the Marie Curie Lot will include repairing damage incurred over the past several years from construction activities and tree roots. LED light fixtures previously removed from the North Gateway project scope of work, localized landscaping and irrigation repairs as well as the addition of electric vehicle charging station infrastructure for future installation.
Scope of work also includes re-striping of Socrates Parking Lot, another faculty and staff lot, adjacent to the main faculty office buildings, which has been modified numerous times. The new layout requires updated, clear striping, and finally the project updates the existing speed bumps/tables on the perimeter loop road. The change is to match the City of San Mateo standard, which has wheel cuts to allow fire trucks to travel smoothly in an emergency but still remain effective at slowing down regular vehicles.
Benefits:
Often neglected, parking lots occupy large areas of open space, and create opportunities to enhance the visual, as well as practical, experience of students, staff and visitors. Bringing these two facilities up to par with the rest of the campus will rid the grounds of potentially hazardous surfaces and present clean, even pavement to walk and drive on. The uniform appearance will allow the eye to focus on the beautiful views and ample trees that make College of San Mateo so lovely.
Status:
In Bid Process