College of San Mateo Colonnades and District Office Deck Waterproofing Project
College of San Mateo Colonnades and District Office Deck Waterproofing Project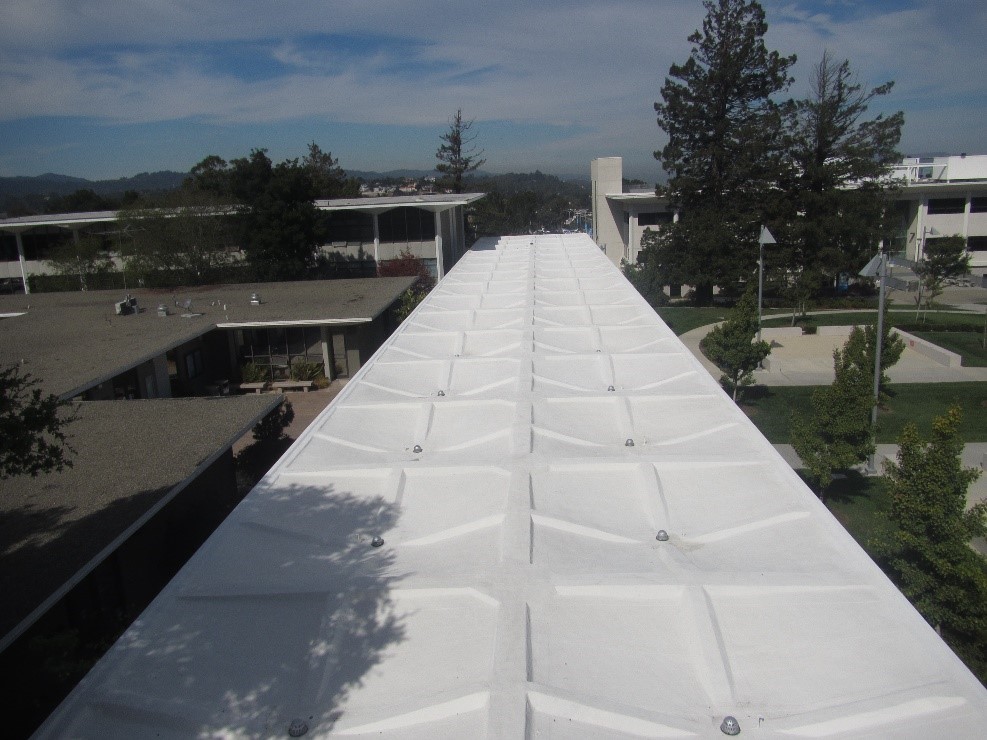 Description:
The Colonnade structures at College of San Mateo, specifically colonnades B14-16, B16-18, and the north and south fountain colonnades, are iconic emblems of the establishment of the home of the San Mateo County Community College District. They speak to the time and place of the development of this educational resource for the mid-peninsula area.
Due to age and the effects of weather they are suffering compromise of the waterproof membrane at the roof. Water intrusion threatens the soundness of their infrastructure. This fault creates a safety issues for our students and must be addressed.
And, because of the period in which they were built, these graceful structures are made with asbestos, the marvel ingredient of its time. But its removal requires special handling which is a portion of this work.
To take advantage of economies of scale, the District will also be replacing the waterproof membrane on the south-side upper and lower decks at the District Office. Though these do not contain asbestos, their southern exposure, and the ravages of time, have degraded their surface, allowing water to cause deterioration of the framing and leakage into the interior spaces. Re-plastering of suspect leaks in the walls and painting of the entire south side with elastomeric paint were added to the scope of work during the course of construction.
Benefits:
New roofing and waterproofing will allow the campus to continue to protect students and staff from inclement weather and the hot sun. And it maintains the vestige of the early days and the reminder of a "classical" look carried over from Rome's famous Forum, the birthplace of education.
Status:
Completed
Contact Information:
Project Manager
Stephen Daniels
Telephone: 650378-7343
E-Mail: danielss@smccd.edu
Project Engineer
Welianto Liu
Telephone: 650 378-7346
E-Mail: liuw@smccd.edu
Architect / Engineer
Allana Buick & Bers
Rob Worthing
General Contractor
Stronger Building Services
Schedule:
Programming/Design: November, 2014 – March, 2015
Production Phase: Feb / March, 2015
Bidding: March / April 2015
Construction: June – November, 2015
Completion: November, 2015