Cañada College North Quad Water Feature Project
Contact Information:
Project Manager:
Alex Acenas
Telephone: 650-738-7064
E-Mail: acenasa@smccd.edu

Project Coordinator:
Jennifer James
Telephone: 650-738-7065
E-Mail: jamesj@smccd.edu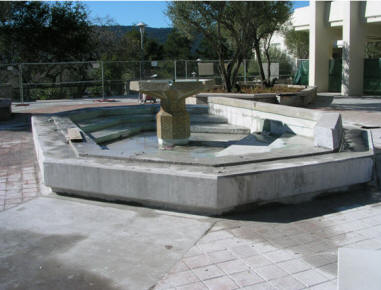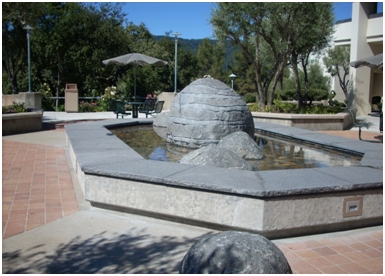 Landscape Architect:
David Gates & Associates
Lighting and Electrical Consultant:
O'Mahony & Myer
General Contractor:
Rodan Builders
RFP Information
Schedule:
Design phase: January 2007-May 2007

RFP and award phase: May 2007 – June 2007

Construction phase: June 2007 – August 2007
Funding Source (s): Measure A general obligation bond funds
Description:
Description: The Cañada College campus has undergone a dramatic transformation since the adoption of the 2001 Facilities Master Plan. The renovation of the lower quad area, the construction of the new Library/Student Resource Center and the renovation of the upper quad area have given the campus a more updated look and created a comfortable, attractive central outdoor area for the students and staff. The redesigned water feature includes natural granite and rock elements with new recessed seat wall lights and up-lighting for the existing olive trees. The renovation of the existing water feature and lighting upgrade in the adjacent planter boxes enhances the upper quad area and complement the improvements in the lower quad area.
Benefits:
This water feature provides a quiet area in the upper campus for students and staff to relax and enjoy the beautiful college that has been enhanced with the recent construction and renovation projects.
Status:
Completed