Cañada College Building 8 Renovation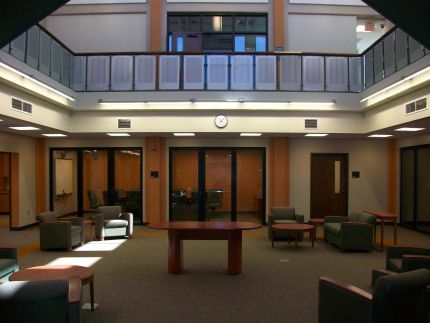 | | | |
| --- | --- | --- |
| Project Manager: Alex Acenas | Telephone:650-738-7064 | E-Mail acenasa@smccd.edu |
| Project Coordinator: Jennifer James | Telephone:650-738-7065 | E-Mail jamesj@smccd.edu |
| Architect: Bunton Clifford Associates, Inc. | General Contractor: Schembri Construction Co. | |
Schedule
Programming and Design Phase: April 2007 - February 2008
DSA Review: February 2008 - May 2008
Bid and Award Phase: May - August 2008
Construction Phase: September 2008-March 2009
Funding
Source(s): Measure A general obligation bond funds Project Description:
This 2 story, 6,000 square foot administration building has been the home of both the Executive administration of the college and several critical departments within Student Services. In the summer of 2005, the President's, Vice Presidents' and adjacent business offices on the 2nd floor were modernized by the Measure C-funded Building 8 renovation project. During the summer of 2007, Admission and Records, Counseling, Financial Aid and Business Services, which were located on the first floor of the building, were relocated to Building 9, the new 72,000 square foot Library and Student Resource Center.
This relocation created the opportunity to provide additional business offices and much needed meeting areas for the campus community. The 2007 Building 8 Renovation Project will mainly address the first floor. By redesigning the floor plan, additional offices, conference rooms, staff break room and work room will be provided. This will make the first floor of Building 8 an efficient and comfortable place where staff and faculty can plan, manage and enhance the educational experience at Cañada College.
Included in this renovation is the installation of a new air conditioning system for the entire building. This upgrade will be a welcome improvement given the warm summer days that the College experiences.
Project Benefits: This renovation will provide modernized office and meeting spaces for the College administration. The campus community benefits as well from the additional 'smart' conference rooms that smaller groups can avail of. The new air conditioning system will improve the indoor environment of both floors, especially in the summer time, and make this building a pleasant place to conduct business.Status:Complete