2007 Canada College Vista Gold Nugget Award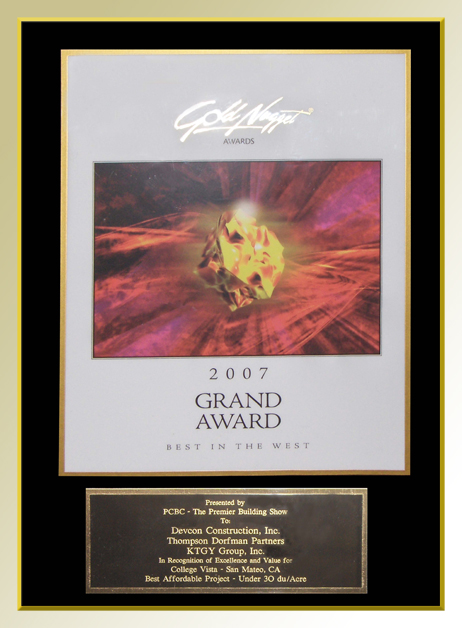 On May 31, 2007, the College Vista Faculty and Staff Housing at College Vista was selected from more than 560 entries and presented with a Gold Nugget award at the annual California Building Industry Association's PCBC trade show. The Gold Nugget Awards recognize the best of the best in architectural design and land use planning in 14 western states.
The goal for College Vista was to create quality affordable housing in a cost-prohibitive market for San Mateo County Community College District's Faculty and Staff. It was a joint public/private partnership that encompassed the District, Apartment Developer, Architect, city, redevelopment and utilities officials. The developer of the 44-unit apartment community was Thompson Dorfman Partners of Sausalito, California and the builder was Devcon Construction, Inc. of Milpitas, California.
The California Building Industry Association is a statewide trade association representing more than 6,700 companies including homebuilders, trade contractors, architects, engineers, designers, suppliers, and other industry professionals.